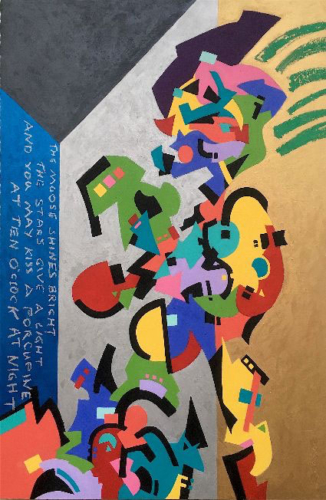 The moose shines bright
The stars give a light,
And you may kiss a porcupine
At ten o'clock at night
This nonsense couplet by Daniel Pinkwater makes me laugh. When I look at my most recent painting, I see a woman throwing her head back to let out a raucous hoot, so I shared the rhyme with her. She agreed Moose Shines would be a fine name. Perhaps we are laughing at the same silliness. Although, I must admit, there have been times when I thought she was crying. Take a look, decide for yourself.
https://davidslader.com/wp-content/uploads/2020/04/newsletter_0120.jpg
652
425
David Slader
https://davidslader.com/wp-content/uploads/2020/04/david-slader-logo.png
David Slader
2020-01-16 13:42:21
2020-08-10 09:04:17
art letter | no. 1. 2020 | January